WELCOME TO DALPAT CATTERY AND AVIARY. WE ARE PROUD IN THE QUALITY AND THE CONDITIONS THAT ARE ANIMALS ARE CARED FOR IN OUR HOME. OUR TICA REGISTERED CATTERY AND SPHYNX CATS AND KITTENS LIVE IN OUR FAMILY SETTING ALONG WITH OUR EXOTIC PARROTS. OUR AVIARY AS WE CALL IT, CONSIST OF BLUE N GOLD MACAWS, MAGNA DOUBLE YELLOW HEADED AMAZONS, YELLOW NAPE AMAZONS, FOUR DIFFERENT TYPES OF COCKATOOS, MOLLUCAN, UMBRELLA, GOFFIN AND ROSE BREASTED. WE ALSO HAVE ECLECTUS, AND SPECIALIZE IN INDIAN RINGNECK MUTATIONS OF ALL VARIOUS COLORS. ALSO IN THE RINGNECK FAMILY WE HAVE ALEXANDRINES AND DERBYANS.


SINCE WE LOVE MUTATIONS WE FELL IN LOVE WITH THE RARE ADORABLE SPHYNX. WE ARE A SMALL REGISTERED CATTERY, AND HAVE QUALITY NOT QUANTITY. WE STRIVE TO HAVE BALD, HEALTHY AND HAPPY KITTENS AT REASONABLE PRICES.

TO TELL YOU A LITTLE ABOUT DALPAT. WE RAISED AND SHOWED AKC PEKINGESE DOGS FOR 16 YEARS. WE PRODUCED OVER 30 CHAMPIOMS OF OUR OWN AND HAD TOP STUD AND TOP FEMALE PRODUCING PEKINGESE IN THE COUNTRY IN 1982. MY HUSBAND AND I BOTH WERE AKC LICENSED PROFESSIONAL HANDLERS. WE WERE LISTED AS NUMBER 3 PEKINGESE KENNEL IN THE COUNTRY IN 1982. AFTER MY HUSBAND HAD A HEART ATTACK AND STROKE WE DECIDED TO SLOW DOWN AND RETIRE AND THIS IS HOW WE STARTED RAISING OUR SPHYNX AND PARROTS. YOU CAN HAVE QUALITY EVEN IF YOU DON'T SHOW AND SHOWING DOESN'T MEAN THEY ARE THE ONLY QUALITY OPTIONS ON THE MARKET. I LEARNED THIS YEARS AGO SHOWING DOGS. I HOPE YOU ENJOY OUR SITE AND VISIT OUR MANY PAGES. WE DEDICATED PAGES TO OUR SPECIALITIES OF THE RINGNECKS. WE HAVE INDIAN, ALEXANDRIANS AND DERBYAN RINGNECKS. ALSO, MY FAVORITE PAGE IS MY SPHYNX PAGES WHICH TELLS A LITTLE AND SHOWS OFF MY BABIES



BEFORE YOU LEAVE US, PLEASE VIEW AND SIGN OUR GUESTBOOK.




In the center is a rare mutation of the Indian Ringneck that we call Skye. He is a Turquoise Cinnamon Sky Blue. Above in the left corner is a Umbrella Cockatoo that we call Linus. The Sphynx in the upper righthand corner is a cream and white male Sphynx and below him is a blue n white female.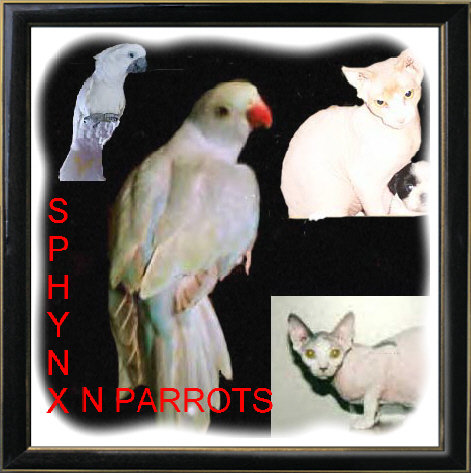 Check out our other pages.
We are still in construction, but please visit our Photo page and let us hear from you by signing our Guestbook.


Visit our Sphynxnparrots Main Web Site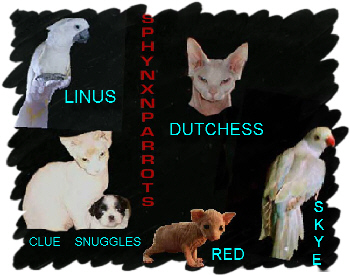 Part of the Sphynx N Parrot family.
Pictured above in the center is Dutchess a white Sphynx female with blue eyes. In the above right hand corner is Linus our male Umbrellas Cockatoo. The bottom left hand corner is Clue a cream and white male Sphynx cat and the right hand lower corner is Skye our Turquoise Cinnamon Sky Blue Indian Ringneck.

Send an email